Enclosed Oil-less Rotary Scroll Air Compressors (Multiplex)
Oil-less scroll packages, in both low pressure and high pressure versions, range from 10 to 40 HP. Their microprocessor controls allow for flexibility of operation and energy savings.
Each model can be run as a simplex or multiplex, depending on the required demand. They include across-the-line motor starters and 3 phase motors for 208-230/460 volt operation.
Inlet filters and a main shut off valve are also included.
Soft-touch microprocessor control panels include the following features:
Start/Strop control buttons
Microprocessor logic to cascade compressors as needed
Power on light and run light
Digital pressure gauge and hour meter
Digital discharge temperature reading
High discharge temperature shutdown alarm indication light
Time indication for alarms indication
High air temperature and over current shutdowns
Dry contact for remote alarm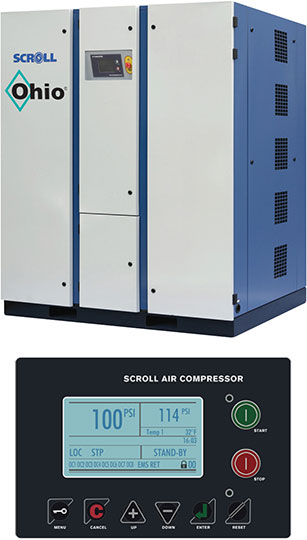 Low Pressure Multiplex Enclosed Scroll Compressors
Part #
230090
230091
230092
230093
230094
HP
10
15
20
30
40
Outlet
1" NPT
1" NPT
1" NPT
1" NPT
1" NPT
dBA
53
56
58
62
63
Length
25.2"
29.6"
63.0"
63.0"
67.8"
Width
45.3"
50.4"
50.4"
50.4"
50.4"
Height
40.2"
49.6"
64.0"
49.6"
64.0"
Weight (lb)
587
1003
1169
1985
2205
Max PSI
115
115
115
115
115
System CFM at 100 psig
29.0
43.5
58.0
87.0
116.0
Parts & Accessories
more info
more info
more info
more info
more info
High Pressure Multiplex Enclosed Scroll Compressors
Part #
230090-HP
230091-HP
230092-HP
230093-HP
230094-HP
HP
10
15
20
30
40
Outlet
1" NPT
1" NPT
1" NPT
1" NPT
1" NPT
dBA
53
56
58
62
65
Length
25.2"
29.6"
63.0"
63.0"
67.8"
Width
45.3"
50.4"
50.4"
50.4"
50.4"
Height
40.2"
49.6"
64.0"
49.6"
64.0"
lbs.
587
1003
1169
1985
2205
Max PSI
140
140
140
140
140
System CFM at 140 psig
24.0
36.0
48.0
72.0
96.0
Parts & Accessories
more info
more info
more info
more info
more info