Enclosed Oil-less Rotary Scroll Air Compressors (Simplex)
Oil-less scroll compressors provide quiet, reliable operation in a compact package. They are offered in both low pressure and high pressure versions.
Electrical controls include microprocessors, 3 phase motors for 208-230/460 volt operation, pressure switches, and across-the-line magnetic motor starters.
Several models include an internal 10 gallon ASME receiver with relief valve and manual drain valve. An inlet filter and main shut off valve are also included.
Soft-touch microprocessor control panels include the following features:
Start/Strop control buttons
Microprocessor logic to cascade compressors as needed
Power on light and run light
Digital pressure gauge and hour meter
Digital discharge temperature reading
High discharge temperature shutdown alarm indication light
Time indication for alarms indication
High air temperature and over current shutdowns
Dry contact for remote alarm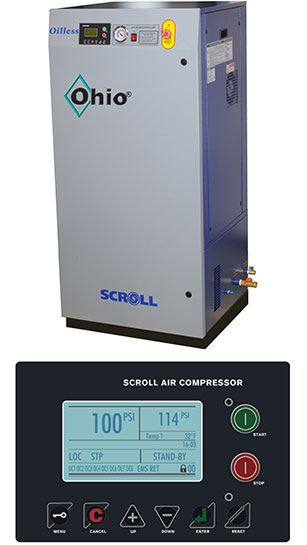 Low Pressure Simplex Enclosed Scroll Compressors
Part #
230085
230087
230086
230088
HP
3
5
3
5
Outlet
1/2" NPT
1/2" NPT
1/2" NPT
1/2" NPT
dBA
49
50
49
50
Length
21.7"
21.7"
27.5"
27.5"
Width
24.5"
24.5"
29.2"
29.2"
Height
30.5"
30.5"
42.2"
42.2"
Weight (lb)
255
265
272
331
Max PSI
115
115
115
115
System CFM at 100 psig
8.5
14.5
8.5
14.5
Tank Size
N/A
N/A
10 Gallon
10 Gallon
Parts & Accessories
more info
more info
more info
more info
High Pressure Simplex Enclosed Scroll Compressors
Part #
230085-HP
230087-HP
230086-HP
230088-HP
HP
3
5
3
5
Outlet
1/2" NPT
1/2" NPT
1/2" NPT
1/2" NPT
dBA
49
50
49
50
Length
21.7"
21.7"
27.5"
27.5"
Width
24.5"
24.5"
29.2"
29.2"
Height
30.5"
30.5"
42.2"
42.2"
lbs.
255
265
272
331
Max PSI
140
140
140
140
System CFM at 140 psig
7.2
12
7.2
12
Tank Size
N/A
N/A
10 Gallon
10 Gallon
Parts & Accessories
more info
more info
more info
more info