Selectorr Series Vacuum Boosters
Selectorr vacuum boosters provide the ideal compliment to backing pumps on a multitude of food applications. They are positive displacement, roots-type blowers, available in 3 sizes. A simple weighted bypass design allows the boosters to start up from atmosphere, at the same time as the backing pump. Pump down times can be cut by up to 50%.
These Selectorr models are easily installed and provide vibration free operation.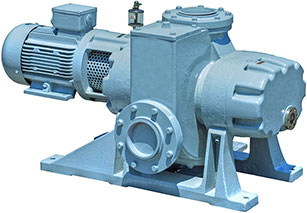 | | | | |
| --- | --- | --- | --- |
| Model | SB3 | SB6 | SB12 |
| Part # | 264360 | 264361 | 264362 |
| Motor(HP) | 3 | 6 | 12 |
| Displacement | 380 CFM | 765 CFM | 1524 CFM |
| Speed @ 60 Hz | 3600 RPM | 3600 RPM | 3600 RPM |
| Inlet/Outlet Connections (in) | 3 / 3 | 4 / 4 | 6 / 4 |
| Max Ambient Temperature | 40-140F | 40-140F | 40-140F |
| Cooling Water (if required) | - | - | 1.2 gpm |