Oil-less Low Pressure Rotary Scroll Air Compressors
Ohio Medical oil-less scrolls provide a clean source of compressed air up to 115 psi. High capacity 7.5 HP and 10 HP models are offered for medical, lab, and industrial applications. Standard modules are available, while custom modifications can be provided per customer requirements.
Bare scroll air ends are applicable for Ohio Medical and Powerex scroll compressor systems. Complete modules with motors, belts, belt guard, aftercooler, relief valve, and temperature switch are mounted on a common base for easy retrofit in the field.
Spec Sheet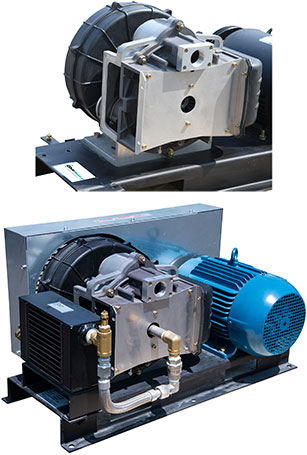 Bare Compressors:
Low Pressure Air End
Low Pressure Air End
HP
7.5 HP
10 HP
CFM
27.7 CFM/50 psi
27.4 CFM/100 psi
34.3 CFM/50 psi
33.8 CFM/100 psi
Part #
230153
230153
RPM
2560
3200
Inlet
1"
1"
Discharge
3/4"
3/4"
Weight
84 lb.
84 lb.
Dimensions
drawing
drawing
Complete Compressor Modules:
Includes 230/460 volt 3 phase motor, relief valve, aftercooler, N.C. temperature switch, belts, and belt guard, mounted on steel base.

Low Pressure Module
Low Pressure Module
HP
7.5 HP
10 HP
CFM
27.7 CFM/50 psi
27.4 CFM/100 psi
34.3 CFM/50 psi
33.8 CRM/100 psi
Part #
100-0228
100-0229
RPM
2560
3200
Inlet
1"
1"
Discharge
3/4"
3/4"
Weight
285 lb.
295 lb.
Dimensions
drawing
drawing
Parts & Accessories
more info
more info