Oil-less Reciprocating Piston Compressors
Ohio Medical oil-less reciprocating piston compressors provide high quality compressed clean air for medical and laboratory applications. These oil-less piston compressors feature aluminum alloy cylinders and pistons for durability and consistent performance. The crankshaft is made of durable ductile cast iron. The sealed bearings assure long term performance.
Reciprocating piston compressor modules include the compressor, motor, belt with guard, temperature switches on each cylinder, unloader solenoid, and aftercooler, all mounted on a common base.
Ohio Medical reciprocating piston compressor modules are great replacements for many legacy oil-free and oil-less compressors. Call on our Customer Support team to help select the right module for your system.
Spec Sheet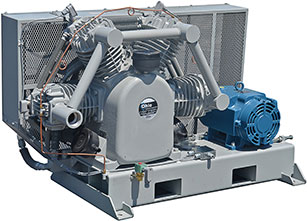 These reciprocating piston compressors are ideal replacements for Quincy oil-less compressors. They are also ideal replacement compressors for Ingersoll-Rand oil-less compressors.
Piston compressors utilize the same operating principle as a conventional car engine piston. The piston compresses air in a cylinder. As the piston moves down inside the cylinder, air is drawn in through a one-way intake valve. On the upward stroke, air is exhausted through a one-way exhaust valve.
Industrial reciprocating piston air compressors are widely considered 'work-horse' compressors. They are hard at work in auto body and tire shops, woodworking facilities, hospitals, construction sites, amusement parks, and industrial facilities. These compressors operate in severe duty environments, have lower maintenance costs, and are ideal for intermittent duty operation.