Oil-less Rotary Scroll Air Compressors (3-5 HP)
Ohio Medical oil-less scrolls are well proven compressors for medical, lab, and industrial applications. Both low pressure and high pressure models are available; they can be powered by either 3 or 5 HP motors, depending on operating speed.
If your system is equipped with Powerex or Atlas Copco scroll compressors call on Ohio Medical for comparable replacements. Also, ask about our swap out program.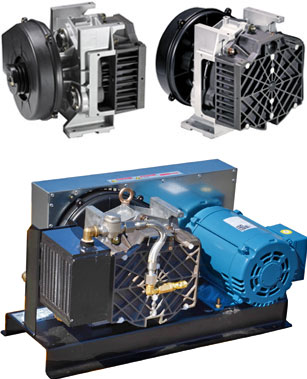 Bare Compressors:
Model
HP
CFM
Part #
Dimensions
Low Pressure Scroll
3 or 5 HP
8.5 or 14.5 CFM / 100psi
230074
drawing
High Pressure Scroll
3 or 5 HP
7.2 or 12 CFM / 140psi
230075
drawing
Complete Compressor Modules:
Includes 230/460 volt 3 phase motor, aftercooler, belt, and guard, all mounted on steel base.