Desiccant Dryers
Ohio Medical offers desiccant dryers that range in size from 10 to 400 CFM. Their advanced design provides clean dry air for many applications, using the pressure swing adsorption principle. Their modular design includes easy to service desiccant cartridges through 177 SCFM models, with integral discharge filters to 1 micron.
Standard models achieve a maximum dew point of -40 deg. F and operate within a pressure range of 58 to 232 psig. Power supply requirements are 100 to 240 VAC/50 or 60 Hz.
All models can be ordered with an Energy Saving (ES) outlet dew point control and display. Models through 177 SCFM can also be wall mounted to save floor space.
Click here to view Dew Point & CO Monitors.
Spec Sheet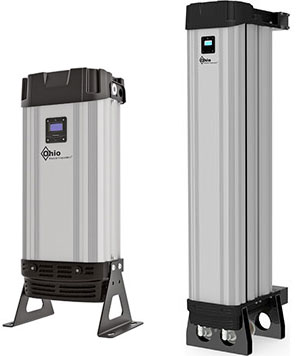 | | | | | | | | |
| --- | --- | --- | --- | --- | --- | --- | --- |
| Max Rated Flow SCFM | Part # (Standard Dryer) | Part # (with Energy Savings) | Inlet/Outlet Connections | Height | Width | Depth | Weight (lb.) |
| 10 | 233625 | 233625-ES | 3/8" push type | 25" | 9" | 10" | 28 |
| 15 | 233626 | 233626-ES | 3/8" push type | 35" | 9" | 13" | 36 |
| 24 | 233627 | 233627-ES | 1/2" NPT | 43" | 9" | 13" | 43 |
| 34 | 233628 | 233628-ES | 1" NPT | 30 | 17" | 13" | 88 |
| 41 | 233629 | 233629-ES | 1" NPT | 30" | 17" | 13" | 88 |
| 53 | 233630 | 233630-ES | 1" NPT | 36" | 17" | 13" | 119 |
| 66 | 233631 | 233631-ES | 1" NPT | 36" | 17" | 13" | 119 |
| 88 | 233632 | 233632-ES | 1" NPT | 43" | 17" | 13" | 141 |
| 106 | 233633 | 233633-ES | 1" NPT | 49" | 17" | 13" | 172 |
| 132 | 233634 | 233634-ES | 1" NPT | 59" | 17" | 13" | 209 |
| 177 | 233635 | 233635-ES | 1" NPT | 72" | 17" | 13" | 262 |
| 212 | 233564 | 233564-ES | 2" NPT | 52" | 16" | 25" | 264 |
| 276 | 233565 | 233565-ES | 2" NPT | 61" | 16" | 25" | 493 |
| 400 | 233566 | 233566-ES | 2" NPT | 75" | 16" | 25" | 575 |