Rotary Vane Vacuum Pumps: 10-25 HP
When significant capacity at deep vacuum is needed, Selectorr 10 through 25 HP models provide a great choice. All models can achieve an end vacuum of 29.9" Hg. These pumps are air cooled and, as an option, can be liquid cooled for high heat environments.
Exhaust and spin on filters on these models are compatible with Busch vacuum pumps. Many of these Selectorr models are used on meat packing, thermorforming, and hospital/laboratory applications.
Spec Sheet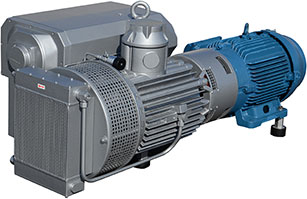 | | | | | | |
| --- | --- | --- | --- | --- | --- |
| Model | S10C-N | S12C-N | S20-N | S22-N | S25-N |
| Pump w/Motor Installed | 264376 | 262994 | 264377 | 262995 | 264378 |
| Pump Without Motor | 262925-LM | 262994-LM | 262926-LM | 262995-LM | 262928-LM |
| Motor HP | 10 | 10 | 15 | 20 | 25 |
| Motor RPM | 1750 | 1750 | 1200 | 1200 | 1200 |
| Inlet/Discharge Connections | 2" | 2" | 3" | 3" | 3" |
| dB(A), Average 60 Hz | 76 | 78 | 78 | 78 | 79 |
| Weight (lb.) | 405 | 414 | 1112 | 1200 | 1550 |
| Oil Capacity (Gallons) | 2 | 2 | 5 | 5 | 5 |
| Parts & Accessories | more info | more info | more info | more info | more info |
| Dimensions | drawing | drawing | drawing | drawing | drawing |
| | | | | | |
| ACFM @ 0" | 194 | 211 | 306 | 353 | 470 |
| ACFM @ 19" | 194 | 211 | 306 | 353 | 470 |
| ACFM @ 25" | 194 | 211 | 306 | 353 | 460 |
| ACFM @ 29.1" | 194 | 211 | 306 | 353 | 460 |
| ACFM @ 29.9" | 56 | 61 | 118 | 136 | 230 |
| | | | | | |
| SCFM @ 19" | 71 | 77.3 | 112.1 | 129.3 | 172.2 |
| SCFM @ 25" | 32.3 | 35.2 | 51 | 58.8 | 76.7 |
| | | | | | |