Cycling Refrigeration Dryers
If your application requires the use of refrigeration type dryers, the Ohio Medical line is your best choice. Providing consistent dew points, these dryers are the most energy efficient models in the industry, with savings of up to 80% vs. conventional dryers. Key features include:
Digital controls that adjust to system air demand and ambient temperature
Digital LED display of outlet air dew point
Programmable operating parameters
Timed solenoid drain with adjustable open and close times
Environmentally friendly, with R134A or R407C refrigerant and non-toxic silica thermal mass
Click here to view Dew Point & CO Monitors.
Spec Sheet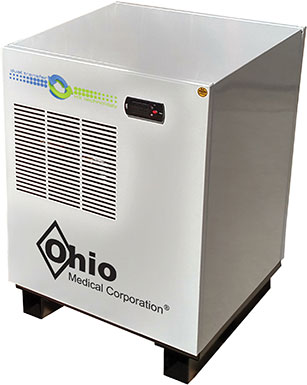 | | | | | | | | | | |
| --- | --- | --- | --- | --- | --- | --- | --- | --- | --- |
| Max Rated Flow SCFM | Part # | Inlet/Outlet Connections | Power Supply | Height | Width | Depth | Weight (lb.) | Prefilter | Afterfilter |
| 20 | 233588 | 1/2" NPT | 115/1/60 | 22" | 17" | 16" | 82 | 233570 | 233580 |
| 30 | 233589 | 3/4" NPT | 115/1/60 | 26" | 18" | 18" | 106 | 233575 | 233585 |
| 45 | 233590 | 3/4" NPT | 115/1/60 | 26" | 18" | 18" | 112 | 233575 | 233585 |
| 65 | 233591 | 1" NPT | 115/1/60 | 30" | 23" | 21" | 196 | 233571 | 233581 |
| 110 | 233592 | 1" NPT | 115/1/60 | 30" | 23" | 21" | 205 | 233576 | 233586 |
| 130 | 233593 | 1 1/2" NPT | 115/1/60 | 37" | 29" | 24" | 291 | 233576 | 233586 |
| 165 | 233594 | 1 1/2" NPT | 115/1/60 | 37" | 29" | 24" | 302 | 233577 | 233587 |
| 200 | 233596 | 2" NPT | 230/1/60 | 39" | 29" | 30" | 386 | 233573 | 233583 |
| 265 | 233597 | 2" NPT | 230/1/60 | 39" | 29" | 30" | 386 | 233573 | 233583 |
| 325 | 233598 | 2" NPT | 230/1/60 | 39" | 29" | 30" | 397 | 233573 | 233583 |