Filters: Medical/Bacterial Filter Banks for Hospitals and Labs
Ohio Medical provides duplex filter banks for Medical and Laboratory applications. Offered in a variety of sizes, each filter bank is a self-standing unit, allowing for flexibility of installation. They are piped for a single point of connection for both inlet and outlet.
Each side of the filter bank is fitted with isolation valves. This allows one side of the bank to remain online while the other side is being serviced. Each filter includes a see-through bucket, flow restriction indicator, and removable and sterilizable drain flask.
Spec Sheet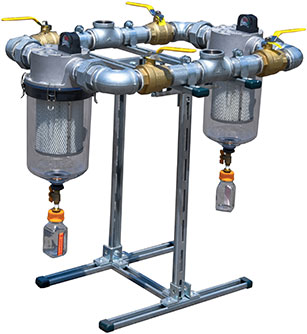 | | | | | | | | |
| --- | --- | --- | --- | --- | --- | --- | --- |
| Filter Bank Model | BOM-MED FB-1 | BOM-MED FB-125 | BOM-MED FB-15 | BOM-MED FB-2 | BOM-MED FB-3 | BOM-MED FB-4 | BOM-MED FB-3X2 |
| Filters (qty) | 233907 (2) | 233908 (2) | 233909 (2) | 233911 (2) | 233913 (2) | 233914 (2) | 233913 (4) |
| Replacement Elements | 233940 | 233940 | 233940 | 233941 | 233942 | 233942 | 233942 |
| NPT Inlet/Outlet Connections | 1" | 1 1/4" | 1 1/2" | 2" | 3" | 4" | 6" flanged |
| Dimensions | drawing | drawing | drawing | drawing | drawing | drawing | drawing |