Rotary Claw Vacuum Pump Modules
Ohio Medical claw vacuum pumps are available as complete modules for quick installation. They include key components needed on both industrial and medical applications.
Each claw module features a Nema motor, inlet vacuum filter, inlet check valve, and exhaust temperature switch. (N.O. standard, N.C. available). The exhaust piping includes a discharge silencer, as well as an isolation valve. Bolt down vibration damping mounts are provided.
Standard modules include 3500 RPM motors, while the HS versions are fitted with 1750 RPM lower HP motors. The HS models feature reduced sound levels and lower heat generation.
Spec Sheet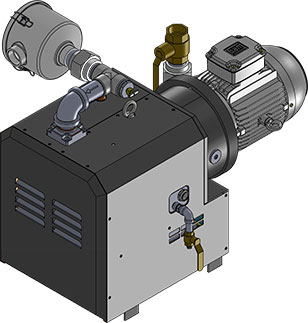 Standard
| | | | | | | | |
| --- | --- | --- | --- | --- | --- | --- | --- |
| Part # | 100-0125 | 100-0130 | 100-0131 | 100-0132 | 100-0133 | 100-0134 | 100-0135 |
| Pump Model | C2 | C3C | C5C | C7C | C10C | C15LC | C15C |
| Motor HP 60 Hz | 2 | 3 | 5 | 7.5 | 10 | 15 | 15 |
| RPM 60/50 Hz | 3500 | 3500 | 3500 | 3500 | 3500 | 3500 | 3500 |
| Inlet Connection | 1" | 1 1/2" | 1 1/2" | 2" | 2" | 3" | 3" |
| ACFM @ 0" | 40 | 70 | 112 | 197 | 220 | 283 | 352 |
| SCFM @19" Hg. | 12 | 23 | 39 | 65 | 75 | 95 | 128 |
| Dimensions | | drawing | drawing | drawing | drawing | drawing | drawing |
HS Series
| | | | | | |
| --- | --- | --- | --- | --- | --- |
| Part # | 100-0136 | 100-0137 | 100-0138 | 100-0139 | 100-0140 |
| Pump Model | C3C-HS | C5C-HS | C7C-HS | C10C-HS | C15LC-HS |
| Motor HP 60 Hz | 2 | 3 | 5 | 7.5 | 7.5 |
| RPM 60/50 Hz | 1750 | 1750 | 1750 | 1750 | 1750 |
| Inlet Connection | 1 1/2" | 1 1/2" | 2" | 2" | 3" |
| ACFM @ 0" | 35 | 56 | 99 | 110 | 141.5 |
| SCFM @19" Hg. | 11.5 | 19.5 | 32.5 | 37.5 | 47.5 |
| Dimensions | drawing | drawing | drawing | drawing | drawing |