Control Modules for Vacuum Pumps and Compressors
Flexibility of operation with superior motor protection is provided by this line of control modules. Four sizes handle a range of 0 to 40 amps, accepting voltages from 208 to 600VAC. The module features variable overload selection, and several motor protection features:
Predicts a safe operating range by monitoring motor inrush conditions
Trips and alarms if the starter needs to be calibrated
Protects against extended starting times, locked rotor, and stall conditions
Prevents motor damage due to setting overload above acceptable limits
The module is automation compatible with dry and wet inputs, relay outputs and 24 VDC output. The module mainframe includes multiple top and bottom knockouts, and a lockable service cover. UL Type 1 indoor enclosure.
Spec Sheet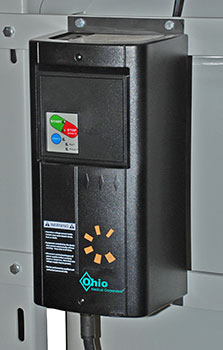 Part #
200V
3-phase
230V
3-phase
460V
3-phase
600V
3-phase
SCIC KAIC
@ 460V
NEMA Size
214015
1 HP
1.5 HP
3 HP
7.5 HP
5
0
drawing
214016
3 HP
5 HP
10 HP
15 HP
5
0
drawing
214017
7.5 HP
10 HP
20 HP
30 HP
5
1
drawing
214018
10 HP
10 HP
30 HP
30 HP
5
1P
drawing