The following products have limited availability and/or have been replaced by newer models. This information is provided for reference purposes.
Quincy Oil-less Single Stage Piston Compressors
Quincy single stage oil-less compressors provide clean air for critical applications such as hospitals, labs, food processing, and pharmaceutical processing. They comply with EPA health standards, as they employ graphite gaskets and Teflon impregnated valve plates.
All air cooled models operate at slow speeds, minimizing heat, while extending service life. They feature cast iron crankcases and main bearing carriers for durability. High air temperature switches are included for protection of the compressor.
All models are offered as either a bare compressor, or a complete module. Modules include the compressor, inlet filter, motor, drive belt, belt guard, and aftercooler. The 15 and 20 HP models also feature solenoid unloading.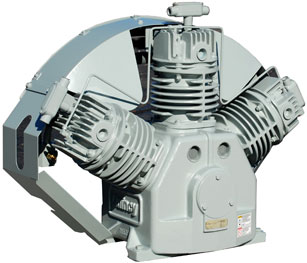 | | | | | | | | |
| --- | --- | --- | --- | --- | --- | --- | --- |
| Module Model | QRDS2B | QRDS3B | QRDS5B | QRDS7.5B | QRDS10B | QRDS15B | QRDS20B |
| Part # | 230031 | 230032 | 230033 | 230035 | 230036 | 230037 | 230038 |
| Motor HP | 2 | 3 | 5 | 7.5 | 10 | 15 | 20 |
| No. of Cylinders | 1 | 1 | 1 | 2 | 2 | 3 | 3 |
| Capacity @ 75 PSI (CFM) | 7.4 | 11.8 | 18.6 | 33.5 | 42.2 | 53.0 | 69.0 |
| Capacity @ 100 PSI (CFM) | 6.1 | 10.1 | 17.2 | 28.5 | 36.3 | 51.0 | 65.1 |
| Maximum Pressure (PSI) | 100 | 100 | 100 | 100 | 100 | 100 | 100 |
| Operating Speed (RPM) | 786 | 843 | 1065 | 950 | 956 | 1020 | 1020 |
| Weight (lb.) | 356 | 378 | 402 | 630 | 670 | 895 | 970 |
| | | | | | | | |
| Bare Compressor ONLY | QRDS-2 | QRDS-3 | QRDS-5 | QRDS-7 | QRDS-10 | QRDS-15 | QRDS-20 |
| Part # | 230027 | 230028 | 230029 | 230021 | 230022 | 230023 | 230024 |
| Weight (lb.) | 149 | 151 | 155 | 275 | 280 | 360 | 385 |